Washington: New Law, SB 5131, Allows Sharing Of Cannabis, Creates Organic Standards, Prohibits Advertising To Youth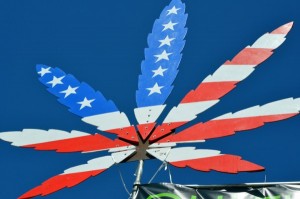 By Michael Bachara
Hemp News
On May 16, Governor Jay Inslee signed Senate Bill 5131 into law. The new law, which goes into effect July 23, allows anyone 21 years or older to "deliver" to another adult up to one-half ounce of flowers, eight ounces of infused solid edible, 36 ounces of infused liquid, or three and one-half grams of concentrates, as long as they don't charge money. Previously in Washington state, possession with the intent to pass the joint/bong/edible held a penalty of 5 years in jail and $10,000, and disqualification from federal programs.
The new rules also allow existing cannabis retail license holders to increase their number of sales outlets from three to five. In addition, the law creates an "organic" certification program through the Washington State Department of Agriculture, giving retail outlets the ability to receive a certificate if their products follow guidelines that allow them to be labeled organic.
The law limits billboards and other external signs for retail cannabis shops to only contain the name of the business, the address and "the type or nature of the business." The billboards and other signage cannot contain any images of plants, products, or images that might be appealing to children: toys, inflatables, or movie or cartoon characters. SB 5131 also bans commercial mascots (inflatable tube displays, persons in costume, or wearing, holding, or spinning a sign with a marijuana-related commercial message or image). Additionally, unlike alcohol, no transit advertising will be allowed at bus stops, taxi stands, train stations or airports.
To grant a license to grow cannabis on tribal land, the liquor and cannabis board must receive consent from the federally recognized tribe associated with the land.
According to Vivian McPeak, a long-time Seattle cannabis activist, "While SB 5131 has positively addressed some outstanding issues that have been hamstringing our state cannabis industry, there are some disturbing adverting restrictions that are based on a lingering degree of reefer madness and which create potential violations of the First Amendment to the U.S. Constitution."
"I would hope that some sanity can return to the legislative conversation and that some actual industry equality can be achieved to aid the nascent and growing cannabis industry. Clearly, our work is not done," McPeak told Hemp News.
In a statement on the Washington State Department of Agriculture website, "WSDA officials will begin the rulemaking process for the new program after the bill goes into effect. The process will include opportunities for public comment. Anyone wishing to participate as part of an advisory board should contact the WSDA Organic Program at organic@agr.wa.gov for consideration."
Jared Allaway, a cannabis proponent and founder of SAFER Shirts, told Hemp News, "I don't know how lawmakers and government agents will interpret 'study of options for the legalization of plant possession and cultivation.' I can see they might take they to mean they need to control our every move in a bad way." Alloway commended the section allowing cannabis sharing and thinks it is long overdue.
Under the law, the state liquor and cannabis board must conduct a study of options for "the legalization of marijuana plant possession and cultivation by recreational marijuana users" and report on their findings by December 1, 2017.
Photo Source: Seattle Hempfest, CRRH