Wisconsin: Bills to Decriminalize Possession of 10 Grams of Cannabis Introduced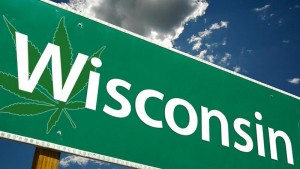 By Michael Bachara
Hemp News
On June 27, Rep. Adam Jarchow (R-Balsam Lake), Rep. Evan Goyke (D-Milwaukee), Rep. Jonathan Brostoff (D-Milwaukee) and Sen. Fred Risser (D-Madison), unveiled Assembly Bill 409, a bill that would decriminalize possessing small amounts of cannabis, but acknowledged the bill's potentially grim fate in a conservative controlled Wisconsin Legislature.
On June 23, Senate Bill 318, a similar cannabis decriminalization bill introduced into the Wisconsin Senate, was referred to Committee on Judiciary and Public Safety.
"I'm not naive to think that we are going to probably pass this and get it signed into law," said Rep. Jarchow, one of the bill's sponsors, adding that he hoped the measure would at least spark bipartisan conversations.
The bill would set a fine of $100 for possessing up to 10 grams of marijuana. Under current law, people found with that amount can be subjected to six months in jail and a $1,000 fine. A second possession offense would be considered a felony.
"First-offense drunken driving is not a crime, but holding "a couple of joints could land you in a jail or in prison," according to Rep. Jarchow. "Eighty people were imprisoned on possession charges in 2016, costing the state $32,000 per inmate."
Gary Storck, a long-time medical cannabis advocate, said, "While Gov. Scott Walker is a steadfast opponent of anything beyond the weak CBD law passed this year, the GOP side of the legislature appears to be slowly warming to supporting cannabis-related bills." Storck added, "Republicans are no longer seeing cannabis as a negative but as a way to connect with constituents and get votes. Should Walker lose his reelection bid in Nov. 2018, Wisconsin could finally join the long list of states who are rejecting cannabis prohibition and embracing the benefits of taxing and regulating the cannabis plant."
In April 2014, a CBD oil bill, Assembly Bill 726 ("Lydia's Law"), was passed by Assembly voice vote and a unanimous Senate vote of 33–0, but under tight controls and for a very limited number of conditions, primary seizures.
According to the National Conference of State Legislatures, twenty-one (21) states have decriminalized possession of small amounts of marijuana. Twenty-nine (29) states allow the use of marijuana for medical purposes and eight (8) states have legalized recreational use.
Photo Source: Change.org