Wisconsin: Lawmakers Propose Bill To Restore Industrial Hemp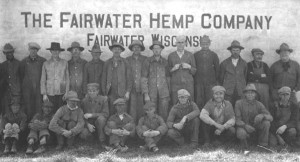 By Michael Bachara
Hemp News
MADISON, WIS. - Lawmakers are seeking to restore Wisconsin's once-prominent hemp industry, giving farmers the chance to add the versatile plant to their rotation.
Representative Jesse Kremer (R-Kewaskum) and state Senator Patrick Testin (R-Stevens Point) have proposed a bill to regulate the production of industrial hemp, which has thousands of uses. The bill has bi-partisan support within the state.
Representative Kremer recently issued the following statement from his office on February 23, 2017: "I am really excited to have had the opportunity to educate myself on this topic over the past six months. The 59th Assembly District has a rich history of agricultural hemp production in the first half of the 20th century and processed industrial hemp in Hartford for the war department. Today, the future is bright for this commodity -- new jobs, increased tax revenue, brand new tech industries and agricultural growth."
"I think we can be a leader on this, and that's what I'm hoping to get with this bill," said Kremer.
"Farmers are struggling with current cash crops. The markets are down on most of the commodities that are produced here in Wisconsin," stated Nick Levendofsky of the Wisconsin Farmers. "I just think it's really important that we look at other commodities that could help, especially at times like right now, when folks are struggling."
Jerry Clark, a UW-Extension Chippewa County agriculture agent, said, "The Controlled Substances Act of 1970 made it illegal to grow hemp, but the 2014 U.S. Farm Bill gave states the right to run hemp research programs."
Clark added, "Industrial hemp has been used for fabric, ropes, parachutes and more, and it can now be used for plastics or medicine. With low crop prices in Wisconsin, hemp could be something Wisconsin farmers turn to as a new income option."
"I think we have enough processing here in Wisconsin, both for the seeds and the oil production, as well as the fabric, from the stalk and the fiber side of it, that there would be plenty of use for it here in Wisconsin," said Clark.
Under the proposed law, "a person may possess, transport, sell, distribute, or buy industrial hemp without a license if the industrial hemp was planted, grown, cultivated, and processed by a person licensed by Department of Agriculture, or by a person in another state or country who planted, grew, cultivated, or processed the industrial hemp in accordance with the laws of that state or country. The bill requires reporting by a person with an industrial hemp license, including reporting all sales of industrial hemp."
According to Irwin Goldman, a University of Wisconsin-Madison professor and horticulturist, "Hemp crops are well-suited for Wisconsin's climate due to its sturdy and low-maintenance qualities."
In the United States 30 states have passed hemp measures under provisions in the 2014 Federal Farm Bill, including Minnesota, Michigan and Illinois.
Due to lack of hemp seed, some states, including Oregon, struggled to launch hemp production. The Wisconsin proposal, which would let producers use seeds certified in Wisconsin or elsewhere, helps farmers overcome possible seed shortages.
The measure has not yet been introduced in their body of the state legislature. If passed, permits would be issued by the state Ag Department.
Photo: The Fairwater Hemp Company, 1917