Wisconsin: Senator Invests in Canadian Cannabis Farm Creating Conflict of Interest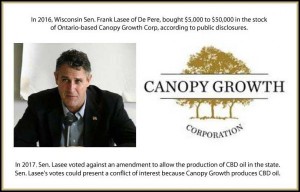 Earlier this year, when the state senator voted to expand access to medical cannabis in Wisconsin, he was doing so as an investor of a Canadian cannabis farm embroiled in turmoil
By Michael Bachara
Hemp News
In 2016, Wisconsin State Senator Frank Lasee of De Pere, bought $5,000 to $50,000 in the stock of Ontario-based Canopy Growth Corp, according to public disclosures reviewed this week.
The company sells cannabis-based products in dried, oil and capsule forms, and brags about operating more than half a million square feet of production facilities. Canopy Growth Corp brands include Tweed, who is in a legal battle with Paul Stanford over THCF Medical Clinics; Bedrocan, who produces standardized medicinal cannabis in the Netherlands; and Mettrum, a cannabis company located in Ontario, Canada.
In May, Sen. Lasee disclosed his stock as part of annual financial reports covering the preceding year. The stock in question is "TWMJF," which is Canopy Growth's ticker symbol for out-of-Canada stock trading. The company's stock is traded on the Toronto Stock Exchange as "WEED."
Sen. Jon Erpenbach, a Democrat who has repeatedly introduced legislation that would legalize medical cannabis, said Sen. Lasee has never approached him on the issue or signed on to his bills. He called Sen. Lasee's investment "frustrating" and panned the senator for attempting to profit from an industry that Republicans have opposed.
"If it's a good enough investment for Frank, then it's good enough for people who benefit from it medically," Erpenbach said.
Long-time cannabis advocate, Gary Storck, told Hemp News, "They changed the laws here. Corruption is legal. If politics stay like they are now, that is how Wisconsin will "legalize".
This past February, Sen. Lasee joined 30 senators in voting to allow the possession of medical cannabinoid oil, or CBD oil. Sen. Lasee voted against an amendment proposed by Democrats to allow the production of CBD oil in the state.
Sen. Lasee's votes could present a conflict of interest because Canopy Growth produces CBD oil.
In training sessions on conflicts of interest, state ethics authorities caution lawmakers to avoid situations where using their official position could produce a disproportionate and substantial personal benefit. Among other factors, when a lawmaker invests in a company, how much they invest and their awareness of their stake could factor into an official review, said Brian Bell, a spokesman for the state's ethics watchdog.
Jay Heck, executive director of Common Cause in Wisconsin, a group that advocates for clean government, said, "As a public official, I think that's a natural question for constituents or others to ask. If he has a financial interest in this company that would profit from the expansion of marijuana... then it would be good to know how he squares that with legislation that could profit him."
As a member of the Senate's public safety committee, Lasee previously voted in favor of possessing CBD oil in January 2016. His vote was pivotal to the proposal, but it failed to pass the full Senate.

For public disclosures filed with ethics authorities this year, Lasee listed owning stock in one company besides Canopy Growth: Apple, the consumer electronics maker. He wrote Apple's actual company name on his disclosure form, rather than use a Canadian ticker symbol as he did for Canopy Growth.
In recent years, Democrats have proposed legislation that would expand access to medical cannabis. A bipartisan bill this year would also decriminalize small amounts of cannabis. None of the bills have gained traction in the conservative Wisconsin legislature.
Photo Source: Post-Cresent