Idaho: State Struggles To Stop Pot Smugglers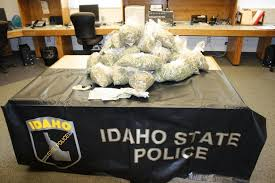 By Derrick Stanley
Hemp News
Oregon and Washington are collecting millions of dollars in tax revenue from recreational pot sales, but neighboring Idaho is struggling to keep up.
Between 2011 and 2015 Idaho State Police saw a huge increase in the amount of marijuana they seized from people passing through their state.
"We've seen almost, approximately a 1000 percent increase in the amount of marijuana that we've seized in Idaho since it's became legal in Washington," said Idaho State Police Captain John Kempf.
ISP seized 131 pounds of marijuana in 2011. But in 2015 after voters in Oregon and Washington voted to legalize pot, the amount of marijuana seized climbed to 1,644 pounds.
Corporal Kevin Kessler and his K9 partner are responsible for many of those seizures. He said the busts begin as traffic stops and from there they find pot. Much of the time the pot is not destined for Idaho but it is being smuggled farther east.
The Washington Liquor and Cannabis Board said the pot seized by ISP is not being diverted to the black market. WSLCB Spokesperson Mikhail Carpenter said they track marijuana from seed to sale.
"We have not cited anyone for diversion, our licensees have invested a lot of money into their businesses and face pretty severe consequences for diverting product," said Carpenter. "While marijuana is legal in Washington the black market still exists and could also be accounting for seizures along the border."
Whoever it's coming from, Capitan Kempf said more and more high-grade marijuana from Washington and Oregon is being smuggled through Idaho.
"But it has become a burden for Idaho because these are not, typically they're not Idaho criminals. We wind up importing them here, they get caught here, we prosecute them here," said Kempf.
Although marijuana is legal in some form in 25 states, it remains illegal in Idaho and at the federal level.
Kempf said troopers will continue to seize large amounts of pot coming through the state as long as that is the case.
"I'm a big believer in democracy and it is something that Washington and Oregon and Colorado and other states have felt that they needed in their states and Idaho does not feel that way, and until they do we're going to keep enforcing the laws that we have," said Kempf.
States that border Colorado are dealing with the same problem. Nebraska and Oklahoma both sued Colorado saying their jails are overflowing with smugglers entering their states with Colorado pot. The U.S Supreme Court declined to hear the lawsuit. Marijuana legalization advocates say that smuggling would stop if other states changed their laws and acknowledge that marijuana is a widely used drug.