Oklahoma: Governor Announces Support For CBD-Only Medical Marijuana Law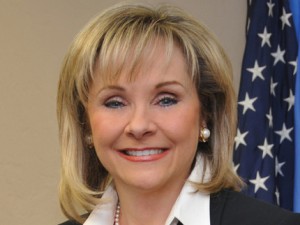 By Steve Elliott
Hemp News
Oklahoma Governor Mary Fallin on Wednesday announced she wants to work with lawmakers in the next session of the Legislature to legalize cannabidiol oil (CBD) on a limited, medically supervised, trial-only basis.
CBD is a component of the marijuana plant; unlike THC (tetrahydrocannabinol), it does not produce a high. The compound has shown effectiveness in quelling seizures in toddlers with epilepsy and other conditions. The CBD oil isn't smoked; it is not considered a recreational drug.
"I do not support legalizing the recreational use of marijuana," Fallin said, reports Laura Noland at KFOR-TV. "Nor do I support a broadly defined 'medicinal' marijuana use that makes it easy for healthy adults and teenagers to find and buy drugs."
"I do support allowing potentially life-saving medicine to find its way to children in need," the Republican Governor said. "I am very interested in allowing limited, heavily supervised use of non-intoxicating CBD to be delivered on a trial basis to sick children in Oklahoma."
Rep. Jon Echols is preparing to lead a legislative study of allowing medical trials for CBD in treating children affected by severe seizures. Echols said he decided to take on the issue when his niece was told CBD may help with her medical condition.
"I am extremely interested in the findings of that study, and I look forward to working with lawmakers in both parties to pursue policies that can help sick Oklahoma children," Fallin said.
The CBD oil in question would contain below 0.3 percent THC, according to Rep. Echols. He said lawmakers would have to convince the Public Health Committee "there is no chance anyone will abuse CBD oil because it is non-intoxicating."
What You Should Know About CBD
CBD is the new darling of politicians like Gov. Fallin who sense the rising tide of popular support for medical marijuana -- and would love to appear to be "doing something" -- but lack the political courage or will to advocate for an actual medical marijuana law.
CBD is politically safe because, as a non-psychoactive component of cannabis, it doesn't get anyone high, and better yet, it helps to quell seizures of the kind often found in pediatric epilepsy. So the combination of "helping kids" and "it doesn't get you high" has proven an "in" for medical marijuana in what would otherwise have been quite forbidding places, such as the halls of power in states like Georgia, Alabama, Mississippi, Tennessee, Kentucky, South Carolina, and now Oklahoma. In July, a federal CBD-only bill was introduced in Congress by Rep. Scott Perry (R-Pennsylvania).
The disquieting fact about these no-political-risk types of laws is that (a) they are written so narrowly as to help only a handful of children, or perhaps none at all, according to some critics; and (b) all of the dozens of cannabinoids found in marijuana work most effective in a synergistic fashion, potentiating each others' medical benefits in what Dr. Sanjay Gupta has called the "entourage effect."
Physicians experienced in the field know from experience that most children with intractable epilepsy require a small amount of THC be added to the mix (often in a ratio of 10:1 CBD to THC), in order for the treatment to be effective, according to Dr. Richard Carlton, M.D.
Additional important information of which the legislators seem to be unaware is that,
as first reported on Toke Signals, it doesn't even have to be a high-CBD strain to treat pediatric seizures without getting kids high. THC which hasn't been decarboxylated -- that is, THC acid (THCA) which hasn't been exposed to heat -- is also effective against seizures, and it isn't psychoactive, either.
That's important information for struggling parents who may not be able to afford the sky-high prices of CBD oil which are unfortunately occurring due to the media frenzy over cannabidiol; THC-rich strains of marijuana are much more affordable.
Photo of Gov. Mary Fallin: Academia.org