Oklahoma: Marijuana Legalization Bill Introduced; GOP Ignores It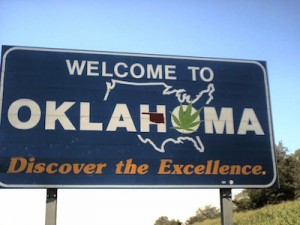 By Steve Elliott
Hemp News
A bill has been introduced in the Oklahoma State Senate to legalize marijuana for recreational purposes for adults age 21 and older.
Senator Connie Johnson introduced Senate Bill 2116, which would legalize, tax and regulate cannabis similarly to alcohol, reports The Huffington Post.
"By taxing and regulating marijuana we can take the lucrative market out of the hands of criminals and drug cartels and put it in the hands of tax-paying, law-abiding businesses," Senator Johnson said.
Johnson pointed out that marijuana prohibition diverts the attention of law enforcement away from more serious crimes.
"More importantly, we can stop arresting adults simply for using a substance less harmful than alcohol and focus our law enforcement resources on violent crimes and real threats to public safety, Sen. Johnson said.
"As taxpayers, we're spending over $30 million each year policing, jailing and incarcerating our citizens on marijuana-related offenses," she said. "Yet marijuana is almost universally available. It's time for a smarter approach."
This is Senator Johnson's fourth try to introduce the legislation, but she thinks it could have a better chance this time, due to social media, reports KSWO 7 News.
"The citizens want to be heard on this issue," she said. "Getting that message out and that word going. Getting people calling their legislators, calling the people that are in positions of power."
A hearing on the science of marijuana will be held on Wednesday, February 11, by the Senate Appropriations Subcommittee on Select Agencies. Marijuana advocates plan to spend the day talking to their elected officials about the proposal.
Complacent GOP Senator Vows To Ignore, Block Bill
But calls won't make any difference, because he's going to ignore them, says one GOP senator in a position to block the bill. Marijuana won't be legal anytime soon in the Sooner State, says state Senator Don Barrington (R-Lawton). Unfortunately, Senator Barrington has the power to refuse to hear it as chairman of the Senate Subcommittee on Public Safety.
Barrington claims SB 2116 is just another way to get marijuana legalized. He says a similar bill was introduced in last year's legislative session and voted down, and that's why he won't hear the bill in his subcommittee.
"When legislation is passed, there are unintended consequences and I think the legislation I reviewed would lead to unintended consequences," Barrington claimed. I don' think parameters are put in place that can handle it."
Barrington's phone (405.521.5563, email barrington @oksenate.gov) has been ringing off the hook from constituents upset with his refusal to even hear the bill in his subcommittee, but he says all those calls and messages won't change his mind. (I guess I'm a little confused here, because I was under the impression that state senators are supposed to actually represent their constituents, not ignore them.)
"It's my job as a committee chairman to review legislation and, I don't recall how many bills have been assigned to my committee this year, but it's to give hearing to those bills that support good legislation," Barrington claimed.
So if Don Barrington says marijuana legalization is "bad legislation," it apparently doesn't matter WHAT his constituents think.
Senator Don Barrington
2300 N. Lincoln Blvd., Rm. 515
Oklahoma City, OK 73105
405.521.5563
barrington@oksenate.gov
Executive Assistant: Sandra Shelton
Photo: The Talon