US: Justice Clarence Thomas Enraged Over Supreme Court Rejection Of Marijuana Lawsuit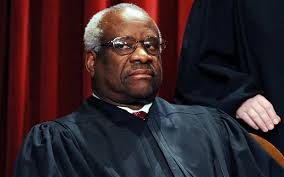 By Derrick Stanley
Hemp News
On Monday, the US Supreme Court rejected an effort by Oklahoma and Nebraska to have Colorado's legalization of marijuana declared unconstitutional.
The majority of justices did not explain their rationale for rejecting the case.
Justice Clarence Thomas was not one of those. In a dissent, he said Article III of the constitution is unambiguous in saying the Supreme Court has exclusive jurisdiction over "controversies" between the states and that the majority's decision left the parties without a legal forum to deal with their case.
The case revolves about Colorado's 2012 adoption of an amendment to its constitution to "legalize, regulate and facilitate the recreational use of marijuana," according to Thomas's dissent.
"Amendment 64 exempts from Colorado's criminal prohibitions certain uses of marijuana. ... directs the Colorado Department of Revenue to promulgate licensing procedures for marijuana establishments. ... and requires the Colorado General Assembly to enact an excise tax for sales of marijuana from cultivation facilities to manufacturing facilities and retail stores," Thomas writes.
In December 2014, Oklahoma and Nebraska filed a motion before the Supreme Court, complaining that Colorado's marijuana legalization amendment facilitates the violation of federal laws prohibiting marijuana sale and use, and has "increased trafficking and transportation of Colorado-sourced marijuana" in their territories, causing them to spend significantly more on "law enforcement, judicial system, and penal system resources" to combat the increased trafficking in marijuana.
Oklahoma and Nebraska wanted the Supreme Court to determine that the federal Controlled Substances Act pre-empts the Colorado state law, and create an injunction barring the amendment from going into effect.
"Federal law does not, on its face, give this Court discretion to decline to decide cases within its original jurisdiction," Thomas wrote.
"The Constitution provides that "[i]n all Cases ... in which a State shall be [a] Party, the Supreme Court shall have original jurisdiction." In accordance with Article III, Congress has long provided by statute that this Court 'shall have original and exclusive jurisdiction of all controversies between two or more States," the justice continued.
"Federal law is unambiguous," Thomas said. "Nothing in §1251(a) suggests that the Court can opt to decline jurisdiction over such a controversy. Context confirms that §1251(a) confers no such discretion. When Congress has chosen to give this Court discretion over its merits docket, it has done so clearly.
" ... Nonetheless, the Court has exercised discretion and declined to hear cases that fall within the terms of its original jurisdiction," he continued. "Because our discretionary approach appears to be at odds with the statutory test, it bears reconsideration. More, the 'reasons' we have given to support the discretionary approach are policy judgments that are in conflict with the policy choices that Congress made in the statutory test specifying the Court's original jurisdiction."
As for the case at hand, Thomas said "The plaintiff States have alleged significant harms to their sovereign interests caused by another State.
"What the merit of the plaintiff States' claims, we should let this complaint proceed further rather than denying leave without so much as a word of explanation," the justice wrote.