New Hampshire: Decriminalization Bill Passes In Senate, Moves Back To House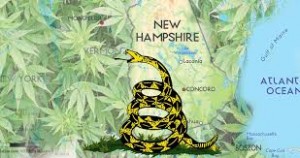 By Derrick Stanley
Hemp News
The New Hampshire Senate has passed a marijuana decriminalization bill, but the measure must now go back before the House after the Senate amended the measure to drop the cannabis possession limits from 1 ounce to three-quarters of an ounce. The bill would eliminate jail time for possession of up to three-quarters of an ounce of cannabis and up to five grams of "hashish" and reduce the fine from $350 to $100 for adults 18-and-older.
Rep. Renny Cushing, a decriminalization proponent, said he was confident that the House would agree with the measure amended by the Senate, and so make its way to the desk of Gov. Chris Sununu, who has indicated that he would sign it.
"I want to thank the legislature for passing common sense marijuana reform," Sununu said following the Senate vote. "I look forward to signing House Bill 640 into law."
Fines will increase to $300 for a third offense and a fourth offense would result in a Class B misdemeanor charge under the measure. Minors convicted of possession of less than the law allows would be subject to a delinquency petition.
The bill forbids law enforcement officers from making arrests for marijuana possession violations.