U.S.: Supreme Court Rejects Other States' Lawsuit Over Colorado Marijuana Legalization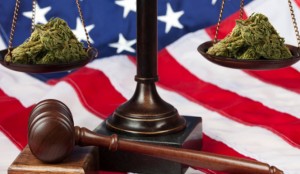 By Steve Elliott
Hemp News
The United States Supreme Court on Monday declined to hear the case brought by Nebraska and Oklahoma against Colorado over its marijuana legalization law. Oklahoma and Nebraska had claimed the Colorado law had created an increased law enforcement burden in neighboring states.
The suit, filed by Nebraska Attorney General John Bruning and Oklahoma Attorney General Scott Pruitt, claimed that federal marijuana prohibition preempts the law that Colorado voters decisively adopted in 2012. The Federal Government filed a brief urging the high court to reject the case.
"There is no question about it: This is good news for legalization supporters," said Tom Angell, chairman of Marijuana Majority. "This case, if it went forward and the Court ruled the wrong way, had the potential to roll back many of the gains our movement has achieved to date. And the notion of the Supreme Court standing in the way could have cast a dark shadow on the marijuana ballot measures voters will consider this November.
"But the justices correctly decided that this lawsuit is without merit and that states should be able to move forward with implementing voter-approved legalization laws even if their neighbors don't like it," Angell said. "At the end of the day, if officials in Nebraska and Oklahoma are upset about how much time and resources their police are spending on marijuana cases, as they said in their briefs, they should join Colorado in replacing prohibition with legalization. That will allow their criminal justice systems to focus on real crime, and it will generate revenue that can be used to pay for healthcare, education and public safety programs."
"The Supreme Court's rejection of this misguided effort to undo cautious and effective state-level regulation of marijuana is excellent news for the many other states looking to adopt similar reforms in 2016 and beyond," said Tamar Todd, director of the Office of Legal Affairs of the Drug Policy Alliance (DPA). "Other states are looking to what Colorado has accomplished: the drops in racially disparate arrests, the criminal justice dollars saved, and the tax revenue raised and want to adopt similar marijuana law reforms.
"The dismissal of this action means that the four states that have adopted ballot initiatives by decisive margins to tax and regulate marijuana for adults, as well as the many states that have adopted laws to regulate medical marijuana, can proceed without interference at this time," Todd said.
"The Federal government itself filed a brief with the high court asking that it not hear this case. It has not challenged the regulatory law in Colorado nor did it choose to interfere with its implementation," Todd said. "To the contrary, the government has deprioritized enforcement of state-level marijuana reforms and acknowledged the interests that both states and the Federal government have in openly regulating marijuana."
"This was a meritless lawsuit, and the court made the right decision," said Mason Tvert, Denver-based director of communications for the Marijuana Policy Project (MPP) and a co-director of the 2012 Colorado marijuana initiative which legalized cannabis in the state. "States have every right to regulate the cultivation and sale of marijuana, just as Nebraska and Oklahoma have the right to maintain their failed prohibition policies.
"Colorado has done more to control marijuana than just about any other state in the nation," Tvert said. "It will continue to set an example for other states that are considering similar laws in legislatures and at the ballot box."
"If Nebraska and Oklahoma had the good sense to legalize and regulate marijuana too, we wouldn't even be having this conversation," said Maj. Neill Franklin (Ret.), executive director for Law Enforcement Against Prohibition (LEAP), a criminal justice group working to end the War on Drugs. "What a monumental waste of time to ask our highest court to solve a problem that could be fixed with a well-written piece of legislation or a ballot initiative."
SCOTUS typically decides on appeals from lower courts, but they occasionally take on disputes between states in "original jurisdiction" suits. These types of suits occur infrequently and generally deal with disagreements over the use of resources, such as rivers, that flow through more than one state.
In December 2015, U.S. Solicitor General Donald Verrilli extended his recommendation to reject hearing the case, which he said would, "…represent a substantial and unwarranted expansion of this court's original jurisdiction."
Copy of the Supreme Court Decision, Monday, March 21, 2016
Graphic: PotNetwork.com