Oklahoma: Veteran Facing Life Sentence For Medicinal Cannabis Set Free After Public Outcry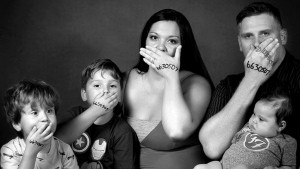 After the public outcry of support, the Marine veteran was treated with regard rather than disdain in the courtroom
By Michael Bachara
Hemp News
The state of Oklahoma was pursuing life in prison against Kristoffer Lewandowski, a 10 year Marine Corps Veteran who was a member of the 13th Marine Expeditionary Unit. Lewandowski, an honorably discharged Marine who served his country for over a decade, was facing ten years to life in prison for growing 6 cannabis plants in 2014, to treat his PTSD and combat injuries after Pharmaceuticals failed him.
"It is my right to choose the safest, most effective treatment for my PTSD and pain…pills or plant, it is what I fought for, it is what America stands for," said Kris Lewandowski, a combat Marine veteran who served three tours overseas in Iraq, Afghanistan and off the coast of Somalia. But the life of this veteran and his family for the past 3 years, "has been nothing short of hell" over a plant. Lewandowski said, "It has been harder on me psychologically and emotionally than even my deployments were. I am in America but I am fighting for my rights, my freedom…over a plant. Cannabis saved my life. It's my medicine. I believe in my soul that I have earned the right to consume a plant in America, to choose my medicine."
On May 18, MassRoots, a pro-cannabis organization, wrote a blog on the case. After seeing the public outcry for the veteran, on May 26, prosecutors for the case changed their position and offered a plea deal. No jail, and a deferred sentence. Lewandowski would stay veteran, not become a felon.
"The blog reached the masses and the masses mattered, it made the difference. People leaped into action, sharing the blog, tweeting, emailing, and calling…in droves," according to MassRoots.
"Every case needs media attention. It literally makes all the difference. In three years they hadn't thrown out any deals at all. They [the prosecutors] told us so many times there would never be a deal. Right before trial, after that blog went viral, we get a plea offer with no jail," said Whitney Lewandowski, Kris's wife.
This case is important for all veterans, as well as all cannabis patients. It sets a precedent and can help others convince leaders of the injustice of prosecuting cannabis patients.
"This case demonstrates that we can, by working together, change cannabis policy and perception," said Matthew Pappas, a California-based attorney who has been working on Lewandowski's case since 2014, "Even in states that continue to persecute patients and cling tight to unjust, outdated laws."
"Our efforts to keep Kris out of jail were successful because so many people came together effectively on his behalf," said his Oklahoma-based attorney, Thomas Hurley.
Michael Minardi, a Florida-based attorney assisting the case, said "Stand by your fellow soldiers who are being prosecuted for using cannabis medicine. Talk to your legislators, your representatives, your Senators, local and federal. Run for office and educate people to the benefits of medical cannabis and we will see veteran suicide decline. We owe a debt of gratitude to all veterans, servicemen and women."
Photo Source: MassRoots