Washington, DC: Supreme Court Ruling Could End Legal Colorado Marijuana Sales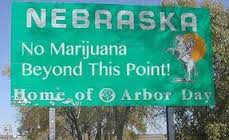 By Derrick Stanley
Hemp News
A lawsuit brought forth by Nebraska and Oklahoma against Colorado's legal marijuana market will be discussed by the Supreme Court on March 4. The suit has the potential to shut down Colorado's legal marijuana industry.
The controversial lawsuit, 'Nebraska and Oklahoma Vs. Colorado', suggests the two states "are suffering a direct and significant detrimental impact" as a result of the retail pot market in Colorado. The Court's final verdict could have "devastating implications for marijuana legalization."
The plaintiffs are requesting that the Supreme Court put an end to Colorado's marijuana industry because Amendment 64 conflicts with the Controlled Substances Act while violating the Supremacy Clause of the U.S. Constitution. They claim that legalization has "created a dangerous gap in the federal drug control system" that is leading to marijuana being smuggled into neighboring states.
The complaint asserts that the federal government is creating a difficult environment for law enforcement and Oklahoma and Nebraska citizens.
The Supreme Court gatekeeper, US Solicitor general Donald Verilli, Jr. says the case should be dropped because the dispute is not "an appropriate case for the exercise of this Court's original jurisdiction." He filed a briefing last year advising the court to dismiss the case, since the criminal actions defined by the complaint are being committed by individuals and not by the State of Colorado.
If the lawsuit receives the support of four justices on March 4, it could still be years before the Court delivers a verdict.
Tom Angell, of the Marijuana Majority says that, "marijuana production and sales could be struck down," hindering the concept of a tax and regulated pot market.
He says, however, that the ruling would not apply to possession and personal growing. Marijuana would still be legal, but all dispensaries and commercial producers would be forced to shut down.