Arkansas: Texarkana Approves Medical Carijuana Regulations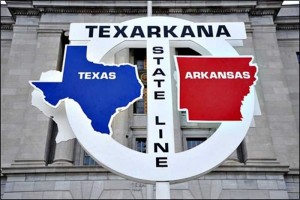 By Michael Bachara
Hemp News
Texarkana, the first municipality in Arkansas which has granted formal approval to local rules that will govern medical cannabis businesses that operate within its borders, has approved the historic first business license fees for dispensaries and medical cannabis growers, according to MJBiz .
Growers must pony up $50,000 for a business permit, while dispensaries will have to pay an initial $7,500 and then $11,000 for yearly license renewals, reports KSLA, the Shreveport, Louisiana TV station.
Texarkana's city manager said, "dispensaries could be operational within city limits before the end of 2017."
Texarkana, which is located in the southwestern corner of Arkansas, borders the state of Texas, where cannabis remains illegal.
Texarkana, Texas, police say they won't recognize Arkansas' cannabis law, which will lead to arrests for cannabis possession of Arkansans crossing the state lines, reports the Arkansas Democrat-Gazette.
Arkansas voters approved legalizing cannabis for medical purposes in 2016.