U.S. Trump Reserves Right To Ignore Medical Marijuana Protections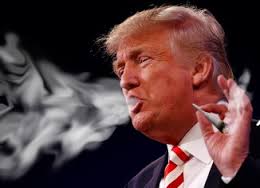 By Derrick Stanley
Hemp News
President Trump signed his first major piece of legislation last Friday -- a $1 trillion spending bill that prevented a federal government shutdown -- but with his signature he included the reservation that he may ignore medical cannabis protections found in the bill.
"I will treat this provision consistently with my constitutional responsibility to take care that the laws be faithfully executed," President Trump wrote in his signing statement, according to a Summit Daily report.
Trump's statement has created confusion on how Trump is going to deal with marijuana. In one interview he said, "Legalized marijuana is always a very difficult question. For medicinal purposes and medical purposes, it's fine."
But since moving into the White House, he has seemed less open to the idea. White House Press Secretary Sean Spicer said there could be "greater enforcement" of federal cannabis laws.
Attorney general Jeff Sessions spoke out about cannabis in March, saying it is "only slightly less awful" than heroin. He also said that medical marijuana "had been hyped, maybe too much."
However, Sessions suggested he would protect state's rights to legalize medical marijuana.
"The Cole memorandum set up some policies under President Obama's Department of Justice . . . much of which I think is valid," Sessions told a group of law enforcement officials.
The Cole Memo was issued in 2013. It argued that the federal government cannot interfere with states that want to legalize medical cannabis.
Other provisions in the 2017 spending bill included funding increases for NASA, the military, and border security (but not for the Mexican border wall that President Trump has promised to build).