Vermont: Legislature First To Pass Marijuana Legalization Measure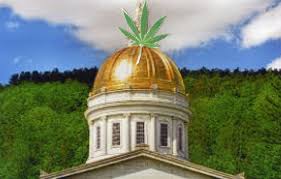 By Derrick Stanley
Hemp News
Vermont's legislature has approved a bill that would legalize marijuana possession and small grows for adults and would create a Marijuana Regulation Commission that will draft legislation for a tax-and-regulate system.
The passage of this bill makes Vermont's legislature the first one to approve ending marijuana prohibition.
If Republican Governor Phil Scott signs the bill, adults 21 and over would be allowed to possess up to an ounce of cannabis and grow up to two mature and four immature plants beginning on July 1, 2018.
"Vermont lawmakers made history today," Matt Simon, the New England political director for the Marijuana Policy Project, said in a report from The Hill. "The legislature has taken a crucial step toward ending the failed policy of marijuana prohibition."
The measure was a compromise between the House -- who passed their own bill last week to legalize possession and small grows -- and the Senate, who passed a tax-and-regulate measure last week.
The Hill reported that the governor has not indicated whether he will sign the measure and has previously said cannabis legalization was not "a priority."